Is your city the "Silicon Valley of Social Impact?" Censeo teamed up with Halcyon Incubator and Capital One to survey nearly 400 social entrepreneurs about what drives successful social enterprise systems. "From the Ground Up, Quantifying Social Enterprise Ecosystems in the U.S." identifies four pillars of social impact, and explores which cities offer the most conducive environmental to catalyze impact and innovation.
The Four Pillars of Success
Social entrepreneurs identified four key factors that build the foundation of healthy, thriving social enterprise ecosystems:
Funding. This includes seed funding, grants, and venture capital (representing both public and private sources).
Quality of Life. Everything from cost of living to the "energy" of a city and social spaces determines and entrepreneur's experience.
Human Capital. Finding great people – as mentors, team members, employees, and advisors – is the engine of any venture.
Regulation and Receptivity. Regulations, market receptivity, and even perception and attitudes towards a social enterprise can create an environment that either nurtures or stifles social enterprise.
While the four pillars are particularly key for social entrepreneurs, focusing on ecosystems will also create healthy business environments for all entrepreneurs and business owners.
City Rankings
Which cities are at the forefront of social entrepreneurship innovation? We used our framework to evaluate the top cities in the U.S. for social entrepreneurs, and the places with the best infrastructures and resources in place to support social impact efforts.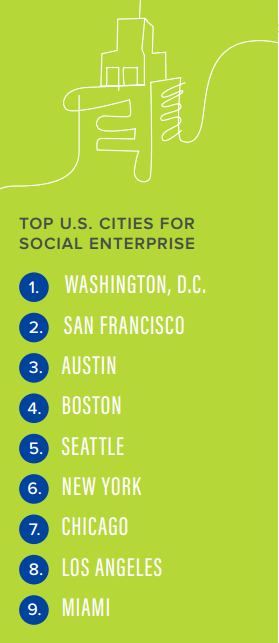 How does your city stack up? And which city should you call home for your social impact endeavor?
Read the full report and use our interactive tool
to explore the future of social entrepreneurship in the U.S.
Let Our Team of Experts Help you Today
Subscribe to our newsletter