When a federal agency was struggling with process inefficiencies and redundancies, they turned to Censeo to support the design and implementation of an organizational restructuring to deliver world-class procurement services .
Censeo worked with the client to define a vision and end-state; align with federal category management best practices; and achieve increased efficiency, better mission outcomes, and improved employee and customer satisfaction. The result? Improved communications and improved alignment of workload and workforce resources.
Situation
The client was implementing a number of cost reduction and efficiency initiatives, while simultaneously struggling with unbalanced workload, redundant positions, communication barriers, and process inefficiencies. Working with Censeo, the client recognized that if the organizational issues were not addressed, there was little hope of sustaining any improvement initiatives long-term. With budget cuts increasing scrutiny and urgency of these issues, the client determined it was time to make some sweeping organizational and operational improvements.
Approach
Censeo performed a diagnostic to develop a robust understanding of the organization—13 offices across 12 geographic locations—including structure, people, key processes and practices, and technology and infrastructure. This fact base was developed collaboratively with the client's Executive Steering Committee using a three-pronged approach: over 400 in-person interviews, an agency-wide survey of both acquisition staff and customers, and rigorous data analysis. Censeo then identified the high-priority opportunities for improvement and recommended targeted changes to the organizational structure.
The team then aligned the workforce to the new organization, carefully considering staff skillsets, needs, preferences, and current workload. Censeo developed a robust transition plan that provided a structured, measurable plan for moving the organization from the current to the end-state, including identification of stakeholders, accountabilities, and implementation risks.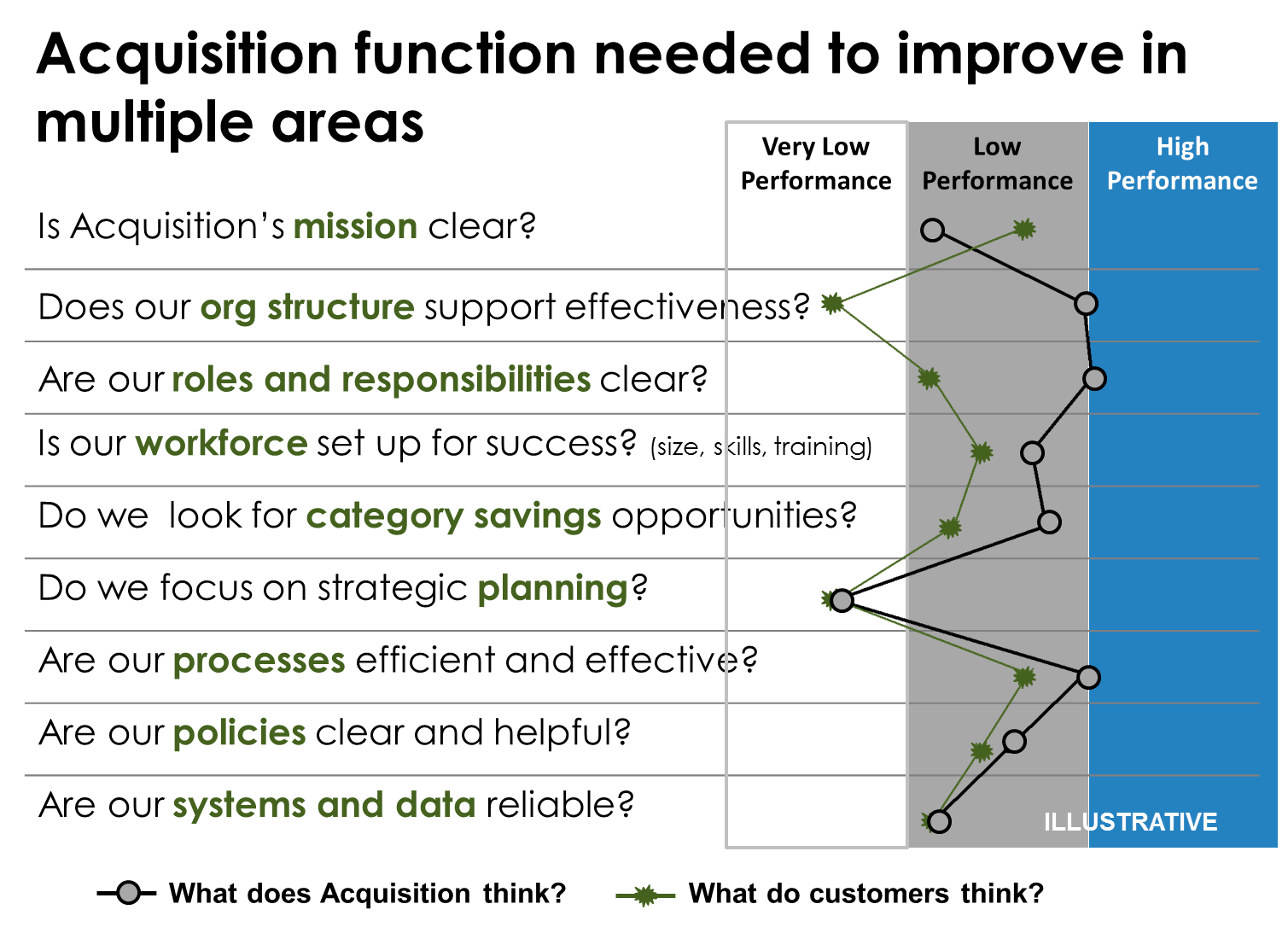 Results
The agency has a new acquisition organizational structure that aligns with the Office of Management and Budget's (OMB) category management strategy and promotes efficiency, quality, and expertise development. The increased efficiency has enabled the agency to sustain operations with a 25 percent reduction in FTE, the specializations and skills enhancement created through the new organizational structure will increase long-term opportunities for the acquisition workforce.
Thank you for all your hard work on this project! I continue to be amazed by how talented the Censeo team is. – Procurement Executive
Subscribe to our newsletter