Over the course of a year, Censeo has negotiated three Enterprise License Agreements (ELAs) with a large, monopolistic software vendor, in partnership with their federal clients.
With Censeo's support, these three ELAs are projected to save the clients tens of millions of dollars over the next three years, and provide numerous other benefits, such as asset visibility and the ability to downgrade.
Situation
The vendor's rapidly changing technology and licensing models make IT cost and capability management critical for federal agencies. Additionally, new policy and legislative mandates (i.e. FITARA) are targeting increased transparency of IT costs. These trends highlight the critical need for a structured approach to actively manage cost, security, and compliance risk across enterprises. However, while demand for strategic cost management is high, software licenses and services are notoriously difficult to source at the enterprise level due to a variety of factors, such as, lack of license visibility, complex internal stakeholder environments, brand loyalty, and a lack of competition in the market.
The three federal clients in this case each had a separate set of challenges and needs when they turned to Censeo for assistance, including difficulty navigating service transitions, time-sensitive contracts, and taking a strategic approach to spending. All three clients were facing very real deadlines and needed to move quickly. To further complicate the situation, two of the three also had limited visibility into how their disparate internal divisions were using the software, making the estimation of the true enterprise-wide requirement a major challenge.
Approach
In a situation like this, experience and a track record of achieving results are critical to success. Censeo brought broad ELA experience and a repeatable, proven process to each of the client agencies. This allowed Censeo and the client teams to identify the negotiation priorities quickly and with confidence.
Censeo worked with each client to accurately assess a baseline of their existing software environment and costs with the vendor, based on Censeo's vast federal spend analysis expertise and understanding of the federal environment. The team then identified and validated requirements based on a complete understanding of the vendor's complex offerings and licensing model options, and worked diligently with the vendor to develop a strategic enterprise relationship.
Results
The Enterprise Agreements put in place at each of the three agencies have not only improved end user productivity by providing the latest technologies, but are expected to save the government $20 million – $30 million in aggregate over the next three years.
Through these new Enterprise Agreements, Censeo's clients will be able to:
Reduce overall cost through right-sized requirements and deeper discounts;
Access all current and future products and services;
Quickly and easily view key information about usage and costs through a license management portal;
Adapt quickly to future technology advances through a flexible contract vehicle; and
Gain advantages such as favorable contract terms, license transferability, downgrade rights, true-down capabilities, and a dynamic ordering and tracking portal.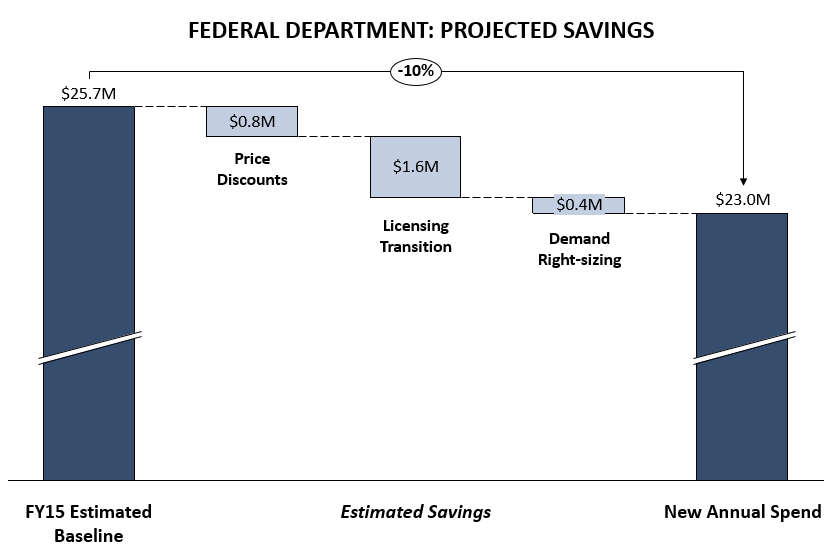 Subscribe to our newsletter