Federal programs rely on the products and services they acquire in order to execute their missions. In many cases, vendor performance is THE most visible driver of program success. Unfortunately, the Federal contracting process is confusing, complex, and time-consuming.  And program leaders are often unsure that their overworked colleagues in agency acquisition organizations can help them navigate the process successfully.
Primary Acquisition Challenges Faced by Programs:
Failing to Meet Critical Deadlines
The Federal procurement process is rife with missed deadlines due to systematic delays, constant rework, and last-minute scrambling to get the acquisition done.
Competing Priorities With Acquisition
The goals, processes, and priorities of agency acquisition offices are often at odds with those of the program, forcing program leaders to make detrimental trade-offs.
Dissatisfaction with Vendors
The wrong acquisition strategy, unsound evaluation criteria or requirements that do not reflect the program's changing needs can result in an award to a vendor who falls short.
Stretched Program Resources
Program offices are already stretched thin as it is. Pulling staff away from their day jobs to develop and support a procurement impedes the mission.
Employing a proven and flexible critical procurement support approach designed and implemented by acquisition excellence experts is crucial for Federal agencies and organizations ability to navigate the acquisition process in a changing operating environment.
---
Censeo: Critical Procurement Experts
We have been helping Federal programs improve acquisition outcomes for over 15 years. Our team of acquisition and technical experts brings a track record of success supporting the full acquisition lifecycle for over 150 critical acquisitions across a breadth of categories worth more than $200B.
---
Full Acquisition Lifecycle Support
Breadth of Supported Categories
IT Products & Services
Productivity Software

Cloud Software & Services
Network Hardware
Laptop & Workstations
Network hardware
Mobile Devices and Plans
Mission Specific Support
Labs & Hospital Supplies
Logistics Services
Weapons Systems
Sustainment Supplies
Fleet Management
Professional Services
Engineering Services
Administrative Services
Contact Center Support
Public Relations & Advertising
Training Services
Travel Services
Delivery Services
Office & Facilities
Building Services
Furniture
Maintenance Supplies
Food Services
Physical Security & Guard Services
Censeo's Critical Procurement Support provides programs with the strategies, materials, and facilitation necessary to navigate the Federal acquisition process.  Our strategic procurement approach includes:
1
A proprietary Acquisition Toolkit containing best practices, benchmarks, templates, and decision support tools that reduce confusion and shortens lead-times
2
A focus on Stakeholder Engagement to align key individuals within the program and across contracting, finance, and other offices
3
A strategic approach to Market Analysis to identify the best way to tap the capabilities of potential suppliers.
4
A data-driven Needs Assessment Methodology to translate program goals into a clear definition of requirements.
---
The Key Benefits of our Approach are:
Talk To An Expert Today
See how our team of critical procurement and technical experts can help.
Situation The client, a major federal department, recently refreshed its strategic plan. It is an ambitious one, focused ...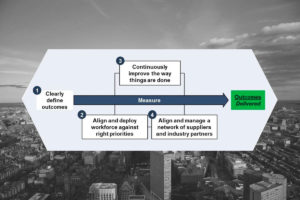 "The pressure is mounting on public sector leaders to do more with less." Ineffective and inefficient government operations ...