Working Knowledge
Software Category Management: How Do We Get Started?
What You Need to Know:
In 2016 OMB and Congress released a memorandum and directive – the MEGABYTE Act – mandating all agencies to implement software license management best practices.
Many agencies seem to be facing similar challenges in complying with the memorandum and the Act.
Agencies have found success fulfilling these requirements by applying the Software Management Framework to their organizations. This has allowed them to immediately initiate the analysis of the current spend, licenses, and future requirements.
Unfunded Mandates, Unclear Initiatives
In June 2016, OMB released a directive mandating all agencies to implement software license management best practices. Soon after, President Obama passed the Making Electronic Government Accountable by Yielding Tangible Efficiencies (MEGABYTE) Act, which effectively requires the CIO of each executive agency to develop a comprehensive software licensing policy. Many agencies have made earnest efforts to comply with these mandates by taking a series of required steps including appointing a Software Manager and initiating or consolidating their inventory of software licenses.
Fulfilling the requirements set out in the memorandum and Act will cost money before they save money for agencies, as funding is not currently made available by OMB or Congress. Not only is compliance expensive, but it can also be daunting for agencies. Common challenges have included:
Prioritization of goals is unclear. OMB's category management effort has introduced a host of federal priorities and requirements, leaving many agencies with a long list of to-dos, but without guidance on how to prioritize goals or where to focus limited budgets.
Finding, cleaning, and analyzing data is arduous. Initiating a software asset inventory isn't as easy as it sounds – and most agency leads have learned this the hard way. Inadequate data systems do not talk to each other, limiting visibility into purchased assets. Lack of data standardization across organizations prohibits easy apples-to-apples comparisons. Additionally, off-the-shelf "Software Asset Management" tools are often of limited value on secured and federated government networks.
The internal stakeholder environment is complex. As if the challenges above weren't enough, agencies are finding that when it comes to software, their organizations are siloed. Further complicating the problem, there is inconsistent interest on behalf of key stakeholders to participate in another agency-wide data call. In other instances, senior leadership, skeptical of the urgency of this initiative, has failed to provide adequate resourcing and executive support to get even basic levels of coordination to take effect.
Despite the challenges laid out above, Censeo has worked with agency leaders who have found an effective path to implementing software category management. Censeo's findings indicate that agencies with the most success have proceeded down a two-pronged path:
1. Mapping the Software Management Framework to your agency
Implementing an agency-wide, centralized software licensing approach takes a tremendous amount of change management. In many instances, agency leaders can utilize best practices and/or co-opt existing processes that have been proven to work in a business unit or sub-agency organization. In other instances, agencies will need to implement new ways of doing business. The starting point for moving your organization down this path is to map an initial plan for how your agency might actually implement software management. The below chart depicts Censeo's Software Management Framework, which spans both the set of activities that are required for any agency to conduct the basic set of software management activities, as well as establishes a hierarchy between tools, information, and governance.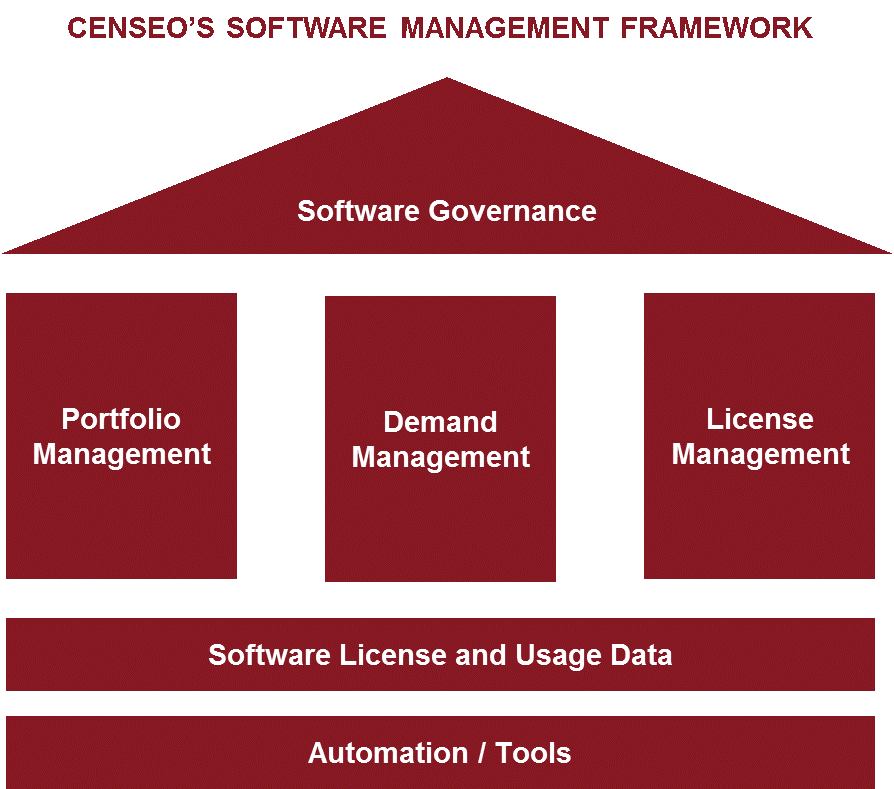 Answering these questions will provide actionable recommendations for implementing IT best practices based on the framework above:
Software Governance: Which part of your agency will help ensure compliance with the defined centralization plan?
Portfolio Management: How will software management strategies be aligned with business processes within your agency?
Demand Management: How will your agency optimize requirements and coordinate the purchase of software maintenance and renewals?
License Management: How will your agency ensure effective utilization and deployment of license inventory, stay in compliance with license terms, and minimize shelf-ware?
Software License and Usage Data: Who will maintain inventory visibility, tracking, and utilization of software asset information?
Automation and Tools: Which tools and automated processes will help ensure that your agency has the best and most current asset management techniques available for decision-making?
Discussing these questions within an organization generates the dialogue essential to driving meaningful change in category management. Moreover, having these questions answered will go a long way towards convincing OMB and GAO that your agency is on the right path.
2. Build an understanding of spend, licenses, and future requirements
While the effort of mapping the Software Management Framework to your agency is critical to getting stakeholders on board, the challenge of understanding your software environment cannot be ignored. Regardless of the implementation approach, building a basic understanding of the licenses your agency currently owns, how much is spent on maintaining and supporting these licenses, and the planned purchases of new licenses is fundamental to this effort.
Developing this knowledge isn't easy, for all the reasons mentioned above. But there are some common-sense approaches that can help jump-start your effort:
Look around your office for clues. While it's easy to get caught up in the myriad of technology solutions in your agency, it is fundamental to start with the basics. These building blocks are often easy to address, and generally account for a large percentage of costs. For example, you can start by asking, "what is the predominant operating system and set of desktop applications?" In most instances, there are only two to three software publishers that dominate that space (Microsoft and Google are clear examples). Which business applications are used by many of your business units, and who are the software publishers? These fundamental questions will help build up the bulk of software licensing knowledge within your organization.
Talk to your customers. Even a short conversation with other organization IT leaders, and asking simple questions like, "Which software programs are used commonly within our agency? Which technology solutions/platforms do we use in our data centers?" can be profoundly insightful and useful. Again, it's more than likely that your organization uses a handful of well-known, Fortune 500 software publishers.
Focus on a small number of software publishers. A handful of software publishers likely make up a large portion of your agency's software asset inventory. Rather than taking a "boil the ocean approach," the most successful programs thoughtfully identify which publishers to address first, and then expand their scope once they have achieved a track record of success.
While the above best practices won't bring 100 percent of your software spend under management, they have proven to be effective first steps.
The Final Word
Depending on who you ask, it's either a terrible time to be an agency software asset manager or a wonderful one. New mandates and directives at the federal level have renewed the focus on getting agency software assets optimized. However, these mandates have forced agencies to shuffle priorities and re-engineer business processes with little to no resources. Agencies who have found success have sought to lay out a vision for how software asset management may look at their agencies, while initiating the hard work of laying the ground work for gaining initial visibility into their software assets.
Featured Experts
Curt Cote
Managing Director
Read Bio